Sector background and demand rationale
Since transition, South African tertiary enrolment has increased by more than any other country in the Sub-Saharan region, at almost double the global average. The National Development Plan for Higher education focused tertiary education to the economic hubs, resulting in mass student migrations into these areas.
A Department of Higher Education and Training (DHET) Report, in 2011, highlighted the lack of capacity of affordable student housing to meet this influx of students. At the time, national residence capacity was capped at 107,000, or 1 bed for every 6 students enrolled, resulting in a direct shortage of 195,700 beds. This forced 27,000 National Student Financial Aid Scheme (NSFAS)-funded students into private accommodation, costing them considerably more than the housing allowance provided by NSFAS.
In the DHET 2016 report, bed shortages were 216,000, or 1 bed in every 7 students enrolled, with 400,000 additional beds expected to be required by 2030. What's more, the situation in Technical and Vocational Education and Training (TVET) colleges was considerably worse with only 1 bed for every 70 students enrolled. When 100,000 NSFAS students utilized private accommodation, their financial sustainability was drastically impacted. At that point, the government only managed to provide 9,000 additional beds, while the private sector only managed 1,100 over the same period. In addition, the rise of the Fees Must Fall Movement between 2016 and 2018, pressured government into pledging free tertiary education. It is a decision that has and will continue to reduce the public funds available for student housing infrastructure development, particularly considering that almost one-third of DHET's 2018 income came from tuition fees.
The result is a severe shortage of affordable student housing that has negative consequences on educational attainment in South Africa. The Student Housing Infrastructure Programme (SHIP), undertaken by the Development Bank of Southern Africa (DBSA) and the European Union (EU) in 2018, seeks to address this through a combined initial commitment of R6.3 billion. In 12 months, 2,000 beds have been completed, 7,000 are in production and an additional 20,000 are in various stages of project development. The student housing shortage provides an opportunity for investors to finance scaled capacity, through SHIP or independently, to the benefit of all stakeholders.
Critical elements to consider in funding affordable student accommodation
Against the high-level demand indications above, this sector still promises great development opportunities in areas in close proximity to, or on, University- or TVET College campuses.
The critical elements to consider when assessing funding opportunities in this sector can be broken down into six focus areas:
Land location/size, development readiness and cost, measured against the affordable student accommodation demand specifics relative to the specific location.
Design, preparation and planning, including proper financial modelling and structuring.
Proper allocation of delivery risk, at affordable building rates, utilizing potentially alternative or supplementary building systems.
On-time and in budget completion, with simultaneous accreditation to the target institutions.
Off-take confirmation, ideally based on head lease arrangements with target institutions or ensuring project viability based on applicable NSFAS accommodation price per bed applicable to the target institution.
Post completion property and facility management risk to be properly allocated to proven and experienced operators.
Land
The location of the land parcel to be developed needs to be within easy reach of the institution to be served. Ideally, within 500m. The regulated distance in terms of the Gazetted Minimum Norms and Standards is no more than 20Km, with the proviso that safe and secure transport at regular intervals needs to be provided by the service provider if the establishment is more than 5Km away from the said institution.
Land price levels are a function of the per bed accommodation rates for the particular development area and the promoter/developer's development cost structure. The aim is to acquire the land, on average and readily zoned, at less than R25,000-00 (2019) per bed dependent also on whether bulk services are already paid for or not.
Design preparation and planning: feasibility phase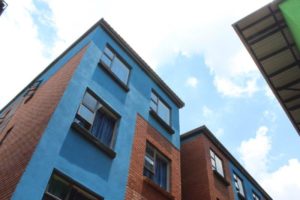 It stands to reason that the success, or potential failure, of any Student Housing project does have a direct relationship to proper pre-development preparation and planning. It starts with a design process integrated with the DHET's minimum norms and standards, as amended from time to time, and ends with a properly modelled technical and commercially viable feasibility study. Including a proper business structure and promoter/funder acceptable funding structure.
Each Institute of learning also has its own unique criteria to adhere to and to ensure eventual accreditation as a private student accommodation facility serving that particular institution. Hence the importance of proper stakeholder engagement in the planning and design phases and an integrated design and planning approach. This should include property and facilities management expertise and guidance.
Delivery risk allocation
This essential stage in project execution needs to be de-risked adequately to ensure comfort to the funders of any proposed student accommodation development project. For this reason, the developer and its team of professionals and eventual contractor / sub-contractors need to be adequately experienced relative to the complexity of the project under development.
A full continuum of contracting structures can be utilized; from a full EPC type construction and delivery structure to a developer own and built structure, using multiple sub-contractors under strong and experienced construction and development management expertise.
"This essential stage in project execution needs to be de-risked adequately to ensure comfort to the funders of any proposed student accommodation development project."
As the design criteria are fairly fixed, the cost structures of development execution (excluding zoned land price) are largely driven by:
Soil conditions, access, egress and land topography;
Design efficiencies;
All material and FF&E procurement sources and methodologies;
Site location;
Building technologies being utilized in the construction execution;
Reasonable professional fees being quoted;
Reasonable development and other management fees being allocated to these projects;
Negotiated funding costs, interest rates, fees etc.
Finally, proper, acceptable and reasonable delivery guarantee and legal structures need to be negotiated to assist in ensuring unambiguous execution and final delivery of any particular project.
On-time completion / accreditation
As a result of the market for which these units/beds are typically developed, the on-time completion prior to the start of any new academic year is of utmost importance. This ensures maximum occupancy at the start of each academic year, a direct bearing on project financial success.
With proper stakeholder involvement throughout the delivery period, and more focused towards completion, private student accommodation suppliers in the affordable end of the market can smooth the process in obtaining accreditation once occupancy certificates are formally issued by the local authorities. This will assist in optimizing the risk and return requirements of both funder and promoter/developer.
Off-take confirmation
From a funding perspective, the more secure the off-take (term revenue signed-up and supported by creditworthy institutions) the less risky and the easier to fund. In the affordable Private Student Accommodation market in South Africa, the off takes can cover a range of different options. It varies directly in terms of the needs, urgency and requirements of each individual institute of learning.
Some institutions are willing to sign term (and head lease) agreements on completed and accredited facilities, from triple net lease arrangements to fully owner-managed facilities. In the metropolitan areas with a more competing rental environment, the general strategy seems to be a student and NSFAS-based individual lease agreement strategy, with market demand and proper integration with NFSAS systemized accommodation allocation per bursary student being the main method in alleviating the risk of non-payment.
"From a funding perspective, the more secure the off-take (term revenue signed-up and supported by creditworthy institutions) the less risky and the easier to fund."
The NFSAS and Institutional systems integration and cooperation are improving each year. Electronic and smart card access to bursary funds to accredited service providers is the current methodology being applied. Any private developer of affordable student accommodation should fully understand the mechanics of these systems to ensure adherence to the overall criteria and hence cover the non-payment risk inherent in the supply of any student accommodation. This covers the off-take risk based on pure market demand to a large extend.
Post completion property and facility management risk
The affordable student accommodation market is highly mobile. All units are furnished, hence the ability of students to move from one service provider to another is seamless.
To protect occupancy (revenue) and risk of funding defaults the promoter/owner needs to ensure proper and hands-on property and facilities management services to completed projects, on a qualitative and sustainable basis. Apart from the various specialist property management companies operating in the field, many developers do have their own internal service providers in this space.
An important part of funder criteria hinges on the expertise of proven property management expertise behind any student accommodation facility, also in the affordable market space. These need to be properly integrated, as an accredited private student accommodation facility, with the particular institution's student code of conduct rules and regulations. Most institutions actually maintain control over the student wellbeing through its codes of conduct, at all the accredited accommodation providers. Regular inspection of the facilities by the various institution's designated offices are part of the accreditation confirmation throughout the life cycle of the facility.
Conclusion
There is clearly a huge and growing demand for Affordable Student Bed Accommodation in South Africa. This demand can be addressed in an integrated fashion, driven by the NSFAS Bursary policy and its efficient execution in the years to come.
Any developer in this market needs to take cognisance of the various regulatory requirements applied to this sector. Furthermore, it is important to understand the existing national and other initiatives to address the dire need for the development of beds, for example, the SHIP being undertaken by the DBSA and EU from 2018.
It is advisable to also conduct a proper review of development plans and strategy employing specialist advisors in this space to ensure no costly errors are made during the full development process.
Author: Ben Verhoef, Director at Cresco Property Advisory & David Perrie, Associate at Cresco Group