We spoke with James Adair, Partner at Big 5 Search, an executive search firm focused on Africa and Emerging Markets which is founded on the belief that access to quality talent, capital and data is key to the success of any business.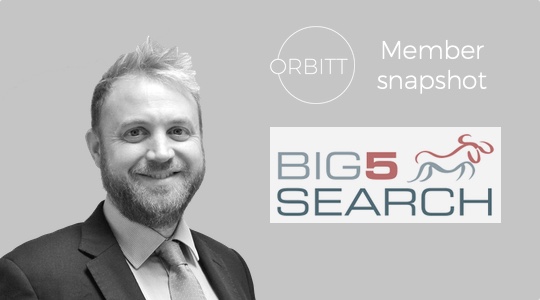 What made you set up Big 5 Search and why Africa executive search?
I previously worked in commercial shipping in Ghana and when I came to recruit a Ghanaian GM to replace myself, I found there was a lack of search firms who could help. In finding a fantastic candidate I also realised I enjoyed the process and so decided to make the career change.
Having run a p&l in Africa I have an understanding of the challenges and opportunities for investors and business leaders operating on the Continent.
Where does Big 5 Search sit within the executive recruitment market?
Africa represents circa 2% of global GDP, and so the big international search firms have tended to overlook the Continent. Meanwhile, local contingent recruitment companies can be strong in their own market but often have little reach beyond. This trend is shared within other Frontier and Emerging Markets around the world, with a handful of exceptions.
As a result, we are competing with the big search firms by offering a robust executive search process, but with more focus on Africa. By focusing on the region, over time this brings the knowledge and networks, which are key to success in this industry.
What makes Big 5 Search different?
Recruiting senior executives is a sales process and not a procurement one. We take very seriously our role as an advocate for our client and will not start a search until we properly understand the opportunity. That way we can present the proposition to candidates in a credible, compelling and ultimately effective manner.
"We also seek to be creative and entrepreneurial in our own approach and have even invested in one of our clients, an early-stage cleantech company we really believe in."
Because we're taking a long-term view on working in Africa, we know that our execution must be outstanding and that we can't fail on mandates. Markets are small and people talk, so we're proud to stand by our track record.
Finally, we understand there is a need to be flexible and nimble in serving clients in Emerging Markets. This may mean tailoring or expediting our process and we're open to these conversations. We also seek to be creative and entrepreneurial in our own approach and have even invested in one of our clients, an early-stage cleantech company we really believe in.
In which sectors are you seeing the most activity?
The top three we would say are infrastructure, agri-business and tech.
We do a lot with companies trying to solve the infrastructure deficit in Africa. Businesses active in renewables and cleantech are scaling their teams rapidly, in particular those in the off-grid and mini-grid space who are disintermediating the public sector.
In Africa, agriculture remains one of the biggest opportunities, with 60% of the world's uncultivated arable land being located on the Continent. More than 50% of people still work in agriculture and therefore the sector is also of interest to impact funds and Foundations, who we also work with.
Tech is growing and will be huge in Africa. Everyone knows the old leapfrogging example of mobile banking in Africa, but there is a very real need to innovate in almost every sector. Fintech is already well developed, for example, one-third of Kenya's GDP flows through M-Pesa. Other sectors will follow and you only need look at the demographics in Africa to see that tech is the future.
Who are your clients?
Both operating companies and investors. Given the need for strong active management in Africa, we often find that equity investors such as VCs and Impact Funds – as well as debt providers like DFIs and Trade Finance companies – are increasingly playing a PE type role. In doing so these firms are encouraging investee companies to bolster their team or make governance-driven hires.
What executive recruitment trends are you seeing in Africa at the moment?
We're increasingly being asked to find 'Growth' CFOs, which is to say strategic finance leaders who have a track record of raising debt and equity, strong capabilities in articulating balance sheets to investors and experience of re-structuring companies to enable them to scale rapidly. Whilst there is still a need for solid Financial Controllers, we are more often mandated to find this dynamic type of Growth CFO for investor-backed businesses.
"We have seen candidates take up to 70% cash comp pay cuts in lieu of the upside on offer with venture-backed businesses. There is a self-selecting element to this dynamic."
What are the challenges of recruiting senior talent into investor-backed businesses?
Typically, the packages will be equity-led and candidates will need to take a view on taking a cash compensation pay cut for greater upside. This can be difficult for candidates coming from Corporates where they have extensive packages, which essentially eradicate their downside risk.
However, we have seen candidates take up to 70% cash comp pay cuts in lieu of the upside on offer with venture-backed businesses. There is a self-selecting element to this dynamic since the type of candidate who is not prepared to embrace the risk/reward factor is probably not aligned on the opportunity and will likely struggle in a less structured and more entrepreneurial environment.
What Big 5 achievements are you most proud of so far?
I think the most satisfying and probably impactful mandates are where we build teams for our clients, across senior and mid-levels. We have done this for a highly innovative cleantech company, a multi-DFI funded infrastructure developer and an impact investing Foundation.
We're proud of the international placements we make which cut across geographies and sectors, some recent ones being a Zimbabwean female MD we placed to lead an established consulting firm in London, a diaspora Egyptian CFO we relocated back home from Canada and headhunting an ex-pat Project Director from South East Asia to East Africa to deliver a large renewable energy IPP.
About Big 5 Search
Serving both investment and operating companies, Big 5 Search covers all of the key industries but focuses heavily on high growth sectors such as agri-business, infrastructure, tech and consumer.
Alongside a proactive and compelling engagement strategy, Big 5 Search runs a comprehensive executive search process, which incorporates bespoke research & market mapping, sourcing and referencing from an extensive network,
Big 5 Search has a demonstrable track record of Board, C-level and high impact hires in middle management. The firm's tested approach delivers results, both in securing the best talent and in collating valuable market information to inform decision making.