We spoke with our members Cresco Project Finance to understand the opportunities in Captive Power Solutions across Africa. Rob Futter, Director, provides insights into energy tariff variations, which markets are seeing the most interest and a 6-step Buyers approach to procuring captive power.
Orbitt: So what is 'Captive Power'?
Rob Futter: Captive Power is the term used to describe situations where an electricity-consuming business puts generation equipment on-site (or nearby) to generate their own electricity. In Africa, this usually involves a mine, manufacturing plant, or any other type of business (known as the 'Buyer') to avoid reliance on the national utility.
Orbitt: And what does Cresco see as the Industry dilemma and therefore the opportunity?
Rob Futter: Historically, captive power generation could be expensive, but the cost of electricity from these sub-utility scale generation plants across the continent has been decreasing over the past five years and seems set to continue to fall. We think this is largely due to three main reasons:
Continuing improvement in power generation efficiencies (across technologies)
Increased competition from both technology providers and Original Equipment Manufacturers (OEMs)
An increasingly active Independent Power Producers (IPP) sector.
For those not familiar with the power sector, an IPP arrangement is where a third party constructs and owns the power plant, and sells electricity to the Buyer under a Power Purchase Agreement (PPA).
What we've seen is how these three factors have resulted in an adjustment to Capital Power cost structures in Africa. This includes the lowering of overall capital expenditure costs; a reduction in IPP equity return expectations; and an increased level of interest from electricity buyers to consider an IPP solution.
Orbitt: How do energy tariffs vary across different types of power generation technologies?
Rob Futter: Although site-specific conditions can have dramatic effects on the cost of electricity, there are a few key trends across the continent that I should point out.
Firstly, stand-alone base load generation tariffs are now at Grid parity for most African utilities. Secondly, solar solutions generally always provide energy cost savings, even against Eskom. Thirdly, thermal generation (such as HFO or Gas) is still more expensive than Eskom in South Africa but this situation can change quickly in the medium term
Based on Cresco data and the insights we've gained from working across Africa over the past 13 years, we've mapped out some high-level indicative tariff ranges for different technologies.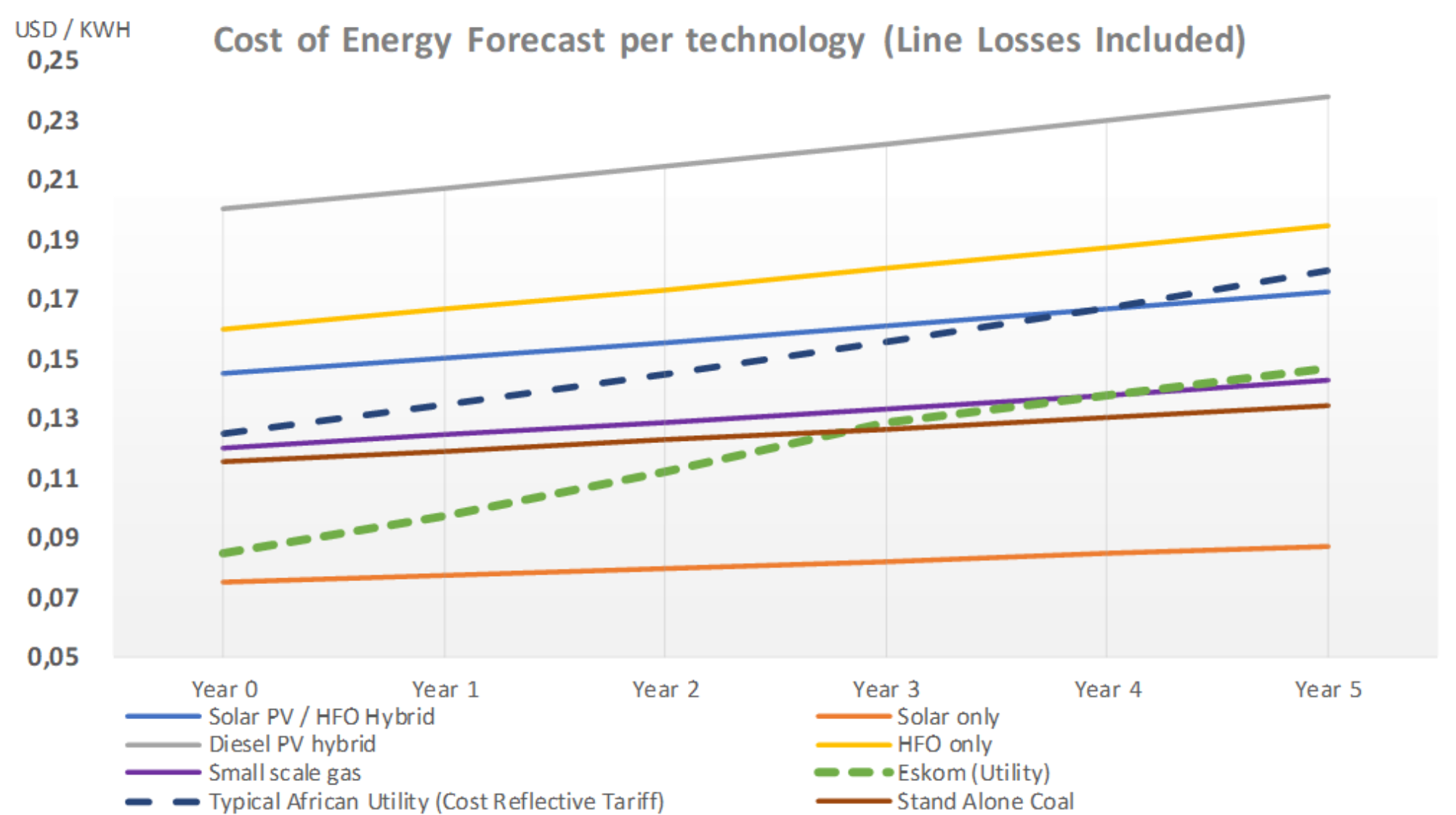 I suppose the opportunity is to balance the various technologies (including batteries) to provide a 'base load' or steady energy generation profile. In turn, this diversified approach will improve the onsite security of energy supply for the Buyer at the lowest cost over the term of a PPA or the economically useful life of the assets.
Orbitt: Who is buying what technologies, and in which countries?
Rob Futter: Generally, the potential buyers range from mines, cement plants, or heavy industries through to agricultural operations with pumped irrigation requirements. And in terms of the generation technology, this needs to be specific to the opportunity depending on whether it's grid-connected or not. On the whole, we're seeing renewable energy always included in the solution, with battery technology being slowly introduced.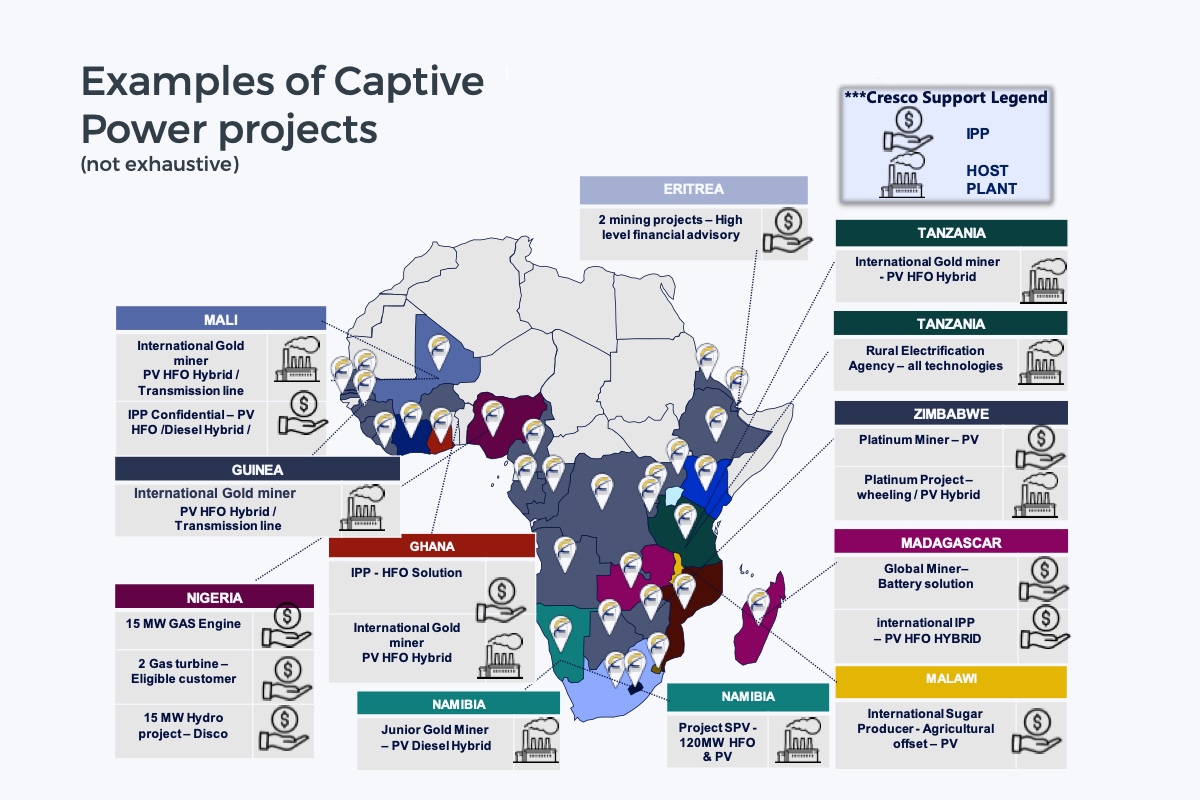 Orbitt: How do Buyers compare electricity tariffs on a like-for-like basis?
Rob Futter: IPPs are fantastic at marketing their offering, and can quote very competitive energy tariffs that are difficult to compare on a like-for-like basis.
Comparing electricity tariffs between countries with different tax regimes, different credit risk considerations and government support increases the complexity of understanding the true cost of energy. Often tariffs from formal procurement programmes – such as Scaling Solar or GetFit – are quoted, but in many instances for projects that have not been built, or have very different credit risk considerations.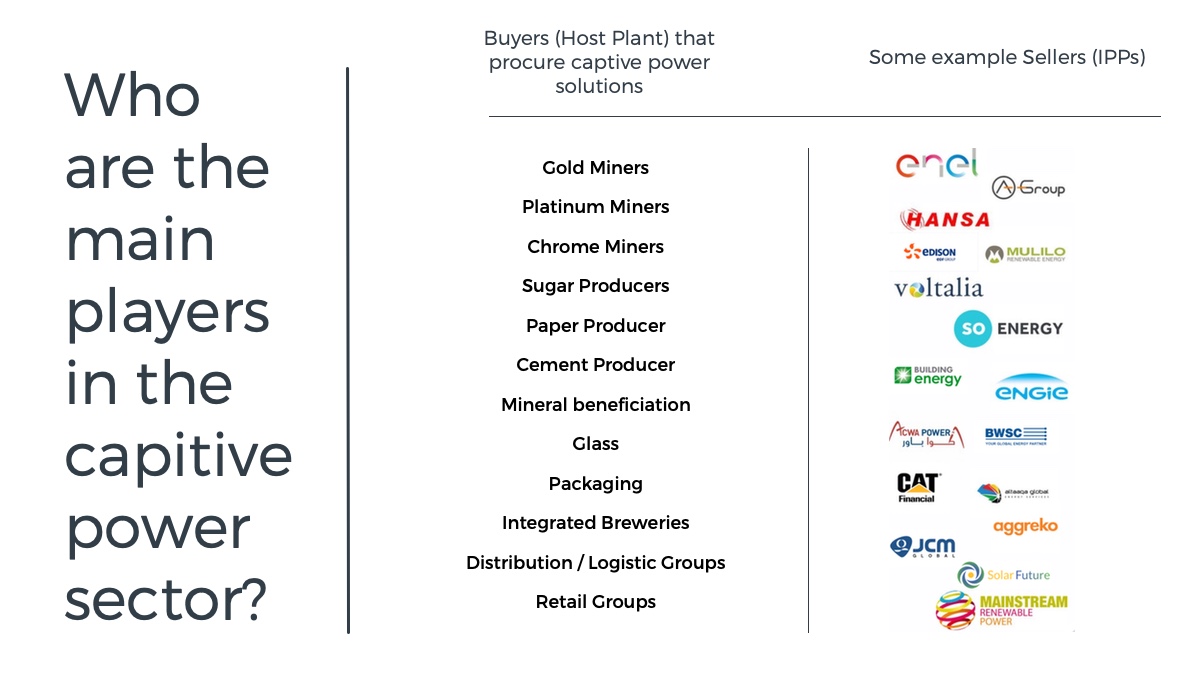 Orbitt: With all these different factors, the question is how do Buyers identify a preferred energy solution, and select the right service provider
There are a number of approaches that we advise our clients to take. Firstly, the Buyers must define the energy strategy and the minimum energy requirements. It sounds simple, but there are lots of moving parts in getting these well-aligned. The Buyer must then choose a preferred procurement approach, prepare a well-constructed RFP, choose a bidder and then close.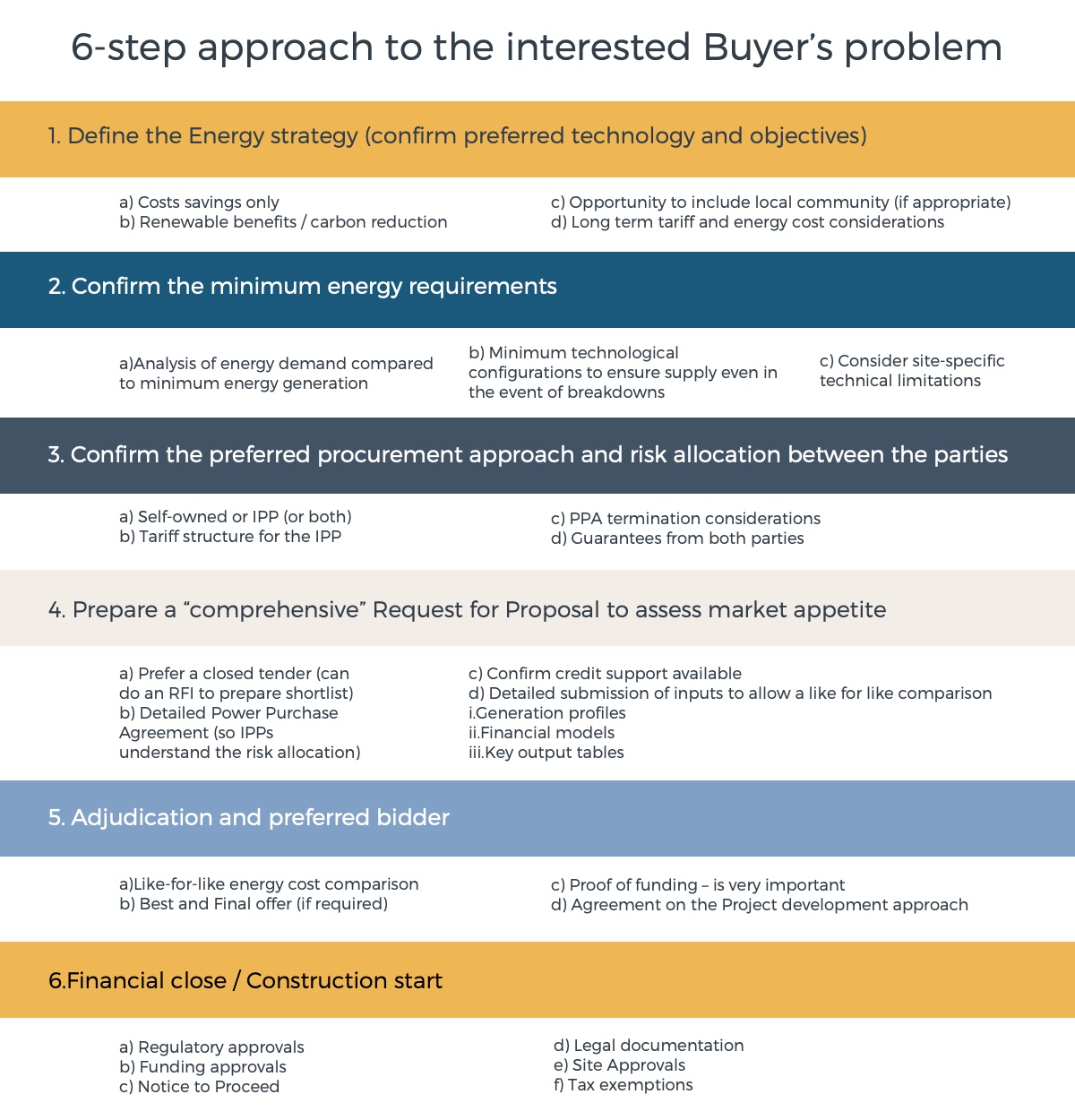 Orbitt: What are the main success factors and reasons for failures in African captive power projects?
Rob Futter: Based on our review of over 200 bids from IPPs and EPCs across technologies, there are only a few true captive power projects that have been completed in sub-Saharan Africa. This indicates a significant opportunity for new investors and buyers to purchase equipment or power for its own use – as this approach is more entrenched.
Success factors:
Significant cost savings in new generation technology compared to old/existing
Reducing equity returns expectations of IPPs results in lower tariffs
Portfolio opportunities (across sites) to obtain synergies and scale
Reducing project development costs
Equity is often willing to fund the project upfront and then refinance with debt, enabling speed of construction
Reason for Failures:
In-country regulation (Utility, tax or interested parties)
Tariff creep from initial bid (if the full risk allocation is not confirmed)
Buyers waiting for even lower tariffs (taking a view that solar equipment costs will continue to fall)
Buyers want to have lowest power costs but are not aware of the complexity, and implications
Orbitt: Where to from here?
Rob Futter: The captive power space is far ahead of its humble beginnings some years ago. Increasing IPP interest and technology changes are benefiting buyers. Even the larger utility scale IPPs are now interested in smaller projects (e.g. 10MW). Importantly, regulatory restrictions continue to be lifted. Just look at South Africa, where up to 10MW captive power plants are now allowed, and there's  potential for Ministerial exemptions for larger plants, as well as further enabling legislation.
Strong Growth in Generation Capacity expected
Cresco expects this sector to continue to grow with an increasing number of potential buyers considering this approach (to make cost savings even if they are grid-connected), and an ever increasing number of IPPs entering the Sub Saharan Africa market – creating competition by trying to differentiate themselves – driving the installation of new generation capacity.
Robert Futter is a Director of Cresco Project Finance. He is focused on the captive power space and has delivered 'real savings' to buyers. Understanding the market and the ability to compare projects assists clients in identifying a preferred technical solution and the most suitable IPP to partner with, thereby achieving the lowest cost and risk to the buyer. Get in touch