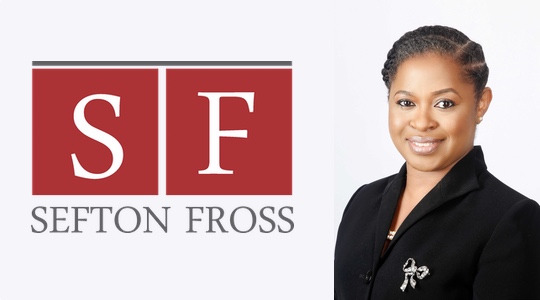 We spoke with Olayemi Anyanechi, Managing Partner of Sefton Fross, our newest platform members and a full-service law firm based in Lagos, Nigeria.
Tell us more about Sefton Fross and your primary areas of expertise.
Started in 2013, Sefton Fross is one of the fastest-growing solutions-oriented law firms in Lagos, Nigeria. We are dedicated to providing niche and innovative legal advisory services that fully attend to the business or transactional needs of our clients. We are a full-service law firm and our practice areas cut across different sectors of industry including Banking and Finance, Corporate and Commercial, and Regulatory and Compliance. Boasting lawyers with local and international legal experience, we regularly work alongside and opposite other top tier local and international law firms on high profile transactions.
Why is it important that business owners and entrepreneurs seek a legal partner early on in their M&A / fundraising journey?
Engaging a legal partner early on is a necessary part of a business owner's M&A or fundraising journey. Legal partners work alongside entrepreneurs to ensure that their businesses are properly registered and otherwise compliant with applicable laws. Lawyers also work to ascertain and resolve any possible issues that may arise in the business using relevant tools of legal analysis including due diligence reviews and business package proposals. These tools are important to make target businesses attractive to investors by giving them a detailed informational outlook of the business and its wider industry. A legal partner also represents the business owner's interests when creating the appropriate corporate structure for the business, as well as in contractual negotiation and documentation.
Are there any common legal mistakes that Nigerian businesses can avoid when looking to expand in the domestic or international market?
Nigerian businesses looking to expand in the domestic or international market would do well to avoid these 2 common mistakes – failing to get legal representation at the onset of their expansion exercise and failing to conduct sufficient due diligence on the target market and/ or the target sector. Nigerian businesses that fail to do these usually face major roadblocks on their expansion journey. Legal representation is necessary to adequately protect the business's interests while ensuring that it is operating within the bounds of the law. Due diligence reveals any possible issues that the entrepreneur may face when expanding into the relevant market and informs the entrepreneur of the viability of his business expansion exercise.
What advice would you typically give to foreign investors or corporates looking to partner with local business in Nigeria?
Sefton Fross usually advises its foreign investor clients to conduct due diligence exercises on the Nigerian target company and market, in order that they understand the unique market structure of the target business and they are compliant with all local laws relevant to the business. We also advise on the appropriate corporate structure for such partnership that is tax-efficient and protects the earning interests of our foreign investor clients.
How do you work with local and foreign investors that are seeking to deploy capital in Nigeria?
Sefton Fross's regulatory & compliance and corporate & commercial practice teams work with investors seeking to deploy capital into Nigeria by ensuring they are registered as the proper entities for their purpose, under the applicable laws including the Nigerian Investment Promotion Commission Act, the Central Bank of Nigeria Act, the Companies and Allied Matters Act and the Investments and Securities Act.
How will Orbitt help you with your business development process?
Orbitt provides Sefton Fross with a platform to interact and market our services to a wider range of clients who require the intermediary services that we provide. Through Orbitt, we hope to connect with and provide legal advisory services to other businesses and investors on the platform, thereby boosting our firm profile and affirming our reputation as one of the leading law firms in Nigeria